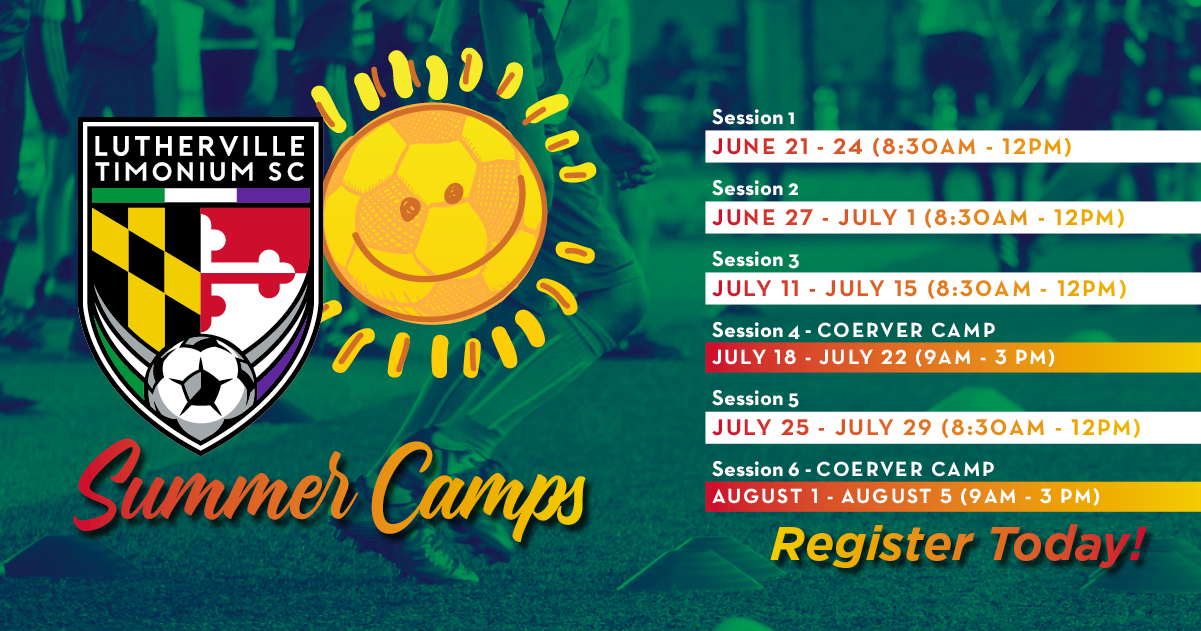 Lutherville-Timonium Soccer Club's summer camps are back for 2022! This year we will be offering 6 weeks of camp! We have 4 weeks of LTSC half day camps and 2 weeks of full day COERVER camps (COERVER camps are sponsored by LTSC, but separately operated with separate registration. Go to coerverunited.com to register).
Option 1: LTSC is happy to announce the return of our popular half-day camp series this summer at Park School of Baltimore! Camps will be directed by local coach Michael Constantine (USSF C license). Camps this year will be all about providing athletes with opportunities to fall back in love with the beautiful game and make up for lost time! Camp style soccer games, skills activities and plenty of free playing will provide an environment for players to express themselves and simply enjoy the game of soccer. Camps will be 8:30am-12pm, leaving the hottest part of the day free for all other activities for a well-rounded summer day. All camps will follow the most current COVID protocol set forward by Baltimore County and The Park School of Baltimore, with detailed information released closer to our start dates. For more information, please feel free to contact camps@ltrcsoccer.org.
Option 2: For the 3rd year we are proud to announce that LTSC will be sponsoring 2 weeks of COERVER CAMP. Although these camps are sponsored by LTSC, they are directed and operated by COERVER. The philosophy of the Coerver program is to ensure our kids are learning the right skills at the right time. After years of growing talent at each age group, they developed 3 unique levels that grow the player, building on top of what will become foundational skills from year to year. Their approach fortifies players with confidence and the ability to apply what they learned continuously on the field. There is a seperate registration for these camps. (please visit coerverunited.com for more information on the Coerver camp). REGISTRATION OPEN NOW!
All camps will be held at The Park School of Baltimore.
Session 1 - June 21 - 24 (8:30am - 12pm) (field not available on Monday - price reflected in registration)
Session 2 - June 27 - July 1 (8:30am - 12pm)
Session 3 - July 11 - July 15 (8:30 - 12: pm)
Session 4 - July 18 - July 22 (9:00 - 3:00 pm) COERVER CAMP (9am - 3 pm) This is a separate registration site. Please visit coerverunited.com to register
Session 5 - July 25 - July 29 (8:30 - 12 pm)
Session 6 - August 1 - August 5 COERVER CAMP (9am - 3 pm) This is a separate registration site. Please visit coerverunited.com to register
Register: Go to http://www.ltrcsoccer.org and follow directions under the "Registration" tab. For LTSC Camp, players must be 6 yrs. old by June 1
Cost For LTSC Camps:
$225/week after April 1
*** Drop off time for LTSC camps from 8:15-8:25 am
Any cancellations for LTSC camps after May 15th will have a $20 admin fee